A performative psychological experiment
This project was a participatory performance combined with a real time psychological research by artist Einat Amir and psychologist Yossi Hasson, as part of their collaboration with the Emotion in Conflict lab led by Prof. Eran Halperin.
​
The project examined whether changing our perception about empathy as a limited resource can increase the level of empathy people feel toward others. Specifically, we tested whether perceiving empathy as unlimited would result in greater empathy toward Syrian refugees who arrived the United States to build a better future.
​
​
​
​
​
​
​
108 Americans had participated in this experiment/performance. During the experiment/performance, all participants were randomly assigned to either a limited or unlimited condition:
In the limited condition, participants were asked to rate their capacity of empathy on a short scale from 0 (cannot empathize with anyone) to 3 (can empathize with three people).

In the unlimited condition, participants were asked to rate on a longer scale from 0 (cannot empathize with anyone) to 300 (can empathize with three hundred people).
This self-rating lead to the perception that empathy is limited or unlimited respectively.
Following that, participants were introduced with 4 real stories of Syrian refugees who were tortured in their homeland. After each story, participants indicated their level of empathy and willingness to read their full stories and help them.
The results revealed that across all stories, participants in the unlimited condition felt more empathy toward the refugees and were more willing to read more about their full stories compared with participants in the limited conditions.
These results were replicated in an online study of 200 participants. The findings of both studies will contribute to better understand how perception of empathy impacts our actual empathic experience, and hopefully promote empathy in our everyday life.
​
The figure below shows a comparison between the two conditions (Unlimited vs. Limited condition) in level of empathy in each story: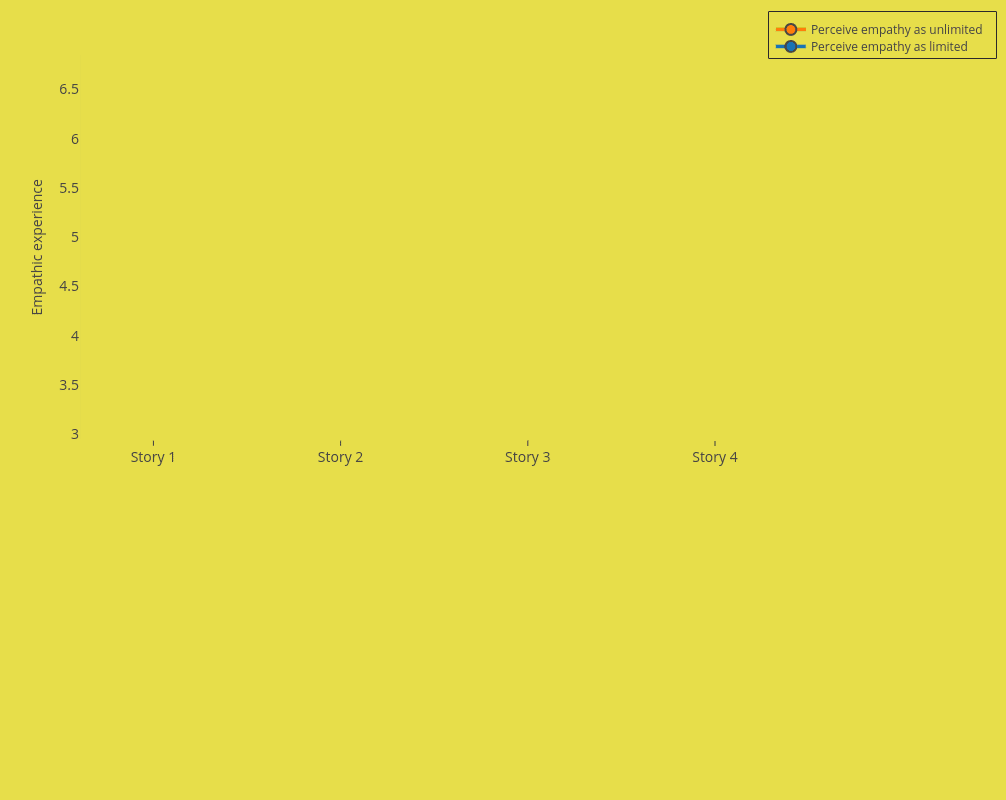 Einat Amir
EInat Amir's works are a research of human interactions that explore the possibilities inherent in face to face communication between people. She sees her studio as a "lab of emotional research" where she experiments in creating interactions that blend the notions of authenticity, fabrication, and manipulation. Amir's work has been shown at; MOMA PS1 New York, PERFORMA13 New York, Palais De Tokyo Paris, MAXXI National Museum of Rome, Istanbul Museum of Modern Art Turkey, Whitechapel Gallery London, The Kitchen New York, Museum of Contemporary Art in Roskilde, Scaramouche Gallery New York, Winzavod Art Center Moscow , Bergen Kunsthall Norway, Dallas Contemporary Art Center Texas, Tel Aviv Museum Israel, Fondation D'entreprise Ricard Paris, MLAC Rome, and Lilith Performance Studio Malmö, among other venues.
​
Yossi Hasson
Yossi Hasson is a social psychologist from the Emotion in Conflict lab at the Interdisciplinary Center Herzliya, and the Emotion Regulation lab at the Department of Psychology at the Hebrew University of Jerusalem, Israel. His main areas of research are emotions and emotion regulation in social contexts. His research aims to improve interpersonal and intergroup relations by developing effective multidisciplinary interventions that combine psychological knowledge with virtual reality, educational tools, and performance art.
​
"Emotion in Conflict" Lab
"Emotion in Conflict" is a social psychology lab that specializes in the psychological processes underlying the dynamics of intergroup conflict. The lab, founded in 2013, is headed by Prof. Eran Halperin, Prof. Tamar Saguy, and Dr. Michal Reifen-Tagar. The lab today consists of over 30 researchers.
This project is made possible with funds from CEC ArtsLink, Artis, Bezalel Research & Innovation Authority, IDC Herzliya, Aspect Ratio Gallery and Hyde Park Art Center.
​